Current Calls, Campaigns & Denunciations
« Israeli Forces Arrest Chairman of Jenin's Freedom Theatre. »
(Sheren Falah Saab, Haaretz, 12 Sept 2022) :
Palestinian culture minister condemns arrest of Bilal al-Saadi at the Za'atara checkpoint: "Part of the policy of abuse and oppression that the occupation employs on a daily basis." The chairman of the board of the Freedom Theatre in Jenin, was arrested on Sunday by Israeli forces while crossing through a military checkpoint in the West Bank, the Palestinian Wafa news agency reported. Continue...
« It's Time to Name Anti-Palestinian Bigotry.
Anti-Palestinianism is as ubiquitous as it is invisible »
Peter Beinart (Jewish Currents, July 16, 2022) :
IN JUNE, three Republicans in the House of Representatives—Michael Waltz, Jim Banks and Claudia Tenney—introduced a resolution censuring Rashida Tlaib, Ilhan Omar, Ayanna Presley, and Alexandria Ocasio-Cortez for, among other things, "inciting anti-Semitic attacks across the United States." House Democrats accused their colleagues of Jew-hatred as well, just less explicitly. Continue...
« Israel's 'Operation Breaking Dawn' killed 49 Palestinians. These are their stories. »
Tareq S. HAJJAJ (Mondoweiss, Sept 1, 2022) :
49 Palestinians, including 17 children, were killed during the three-day Israeli assault on Gaza from August 5 – 7, 2022. Here is a profile of each life that was lost.
During the three-day Israeli assault on Gaza between August 5 – 7, 2022, now known as Operation Breaking Dawn, 49 Palestinians were killed, including 17 children. Since the end of fighting, the Mondoweiss team identified every airstrike conducted by the Israeli air forces and undertook the project of memorializing the Palestinians who were martyred in the Israeli attack, including interviewing many of their families. While Israeli airstrikes were still ongoing in Gaza, moving from place to place became a deadly mission, and even venturing outside of your home could expose you to deliberate and indiscriminate Israeli bombing. The Israeli military regarded anything that moved on the ground to be a legitimate target, and many of the deaths reported during this invasion were of people sitting in front of their homes — most of them non-combatants, according to Mondoweiss's documentation. Continue...
« Over 150 Organizations Demand International Community Stand Against
Raids and Closures of 7 Palestinian Organizations »
CIHRS (August 22, 2022) :
Amid Israel's escalating attacks targeting their work, a group of more than 150 Palestinian, regional, and international organizations express our full solidarity with the designated seven leading Palestinian civil society organizations.
« HUMAN RIGHTS ARE NOT TERRORISM »
B'TSELEM (August 21, 2022) :
Defense of human rights is not terrorism. Israel is persisting in its declaration of prominent Palestinian civil society organizations as terrorist groups. Recently, the military put words into action by raiding their offices and shutting them down. These declarations are baseless.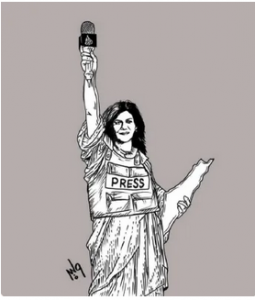 « Open brief van Alain Platel na de moord op journaliste Shireen Abu Akleh »
(De Wereld Morgen, 17 mei, 2022):
Terwijl men zich in heel West-Europa terecht nerveus maakt omtrent de oorlog in Oekraïne en er verder ook alles aan wordt gedaan om via allerhande wegen steun te bieden aan het geteisterde volk daar, gaat het moorden in Israël en de Bezette Gebieden gewoon verder. Alledaagse kost. Vervelend wel dat de finale van het Eurovisiesongfestival samenviel met de begrafenis van Shireen Abu Akleh in Jeruzalem. Shireen Abu Akleh was een Palestijnse journaliste die meer dan 25 jaar lang voor Al Jazeerah verslag deed over het dagelijks geweld in de Bezette Gebieden. Zij was ondertussen de stem geworden van élke Palestijn.
De koelbloedige moord op Shireen op 11 mei door Israëlische snipers, was op zich blijkbaar niet genoeg. De Israëlische veiligheidstroepen hadden er ook geen énkel probleem mee om de rouwstoet van familieleden en vrienden die de kist van Shireen te voet van het mortuarium naar de kerk in Jeruzalem wilden begeleiden, uit mekaar te kloppen. De live beelden waren stuitend...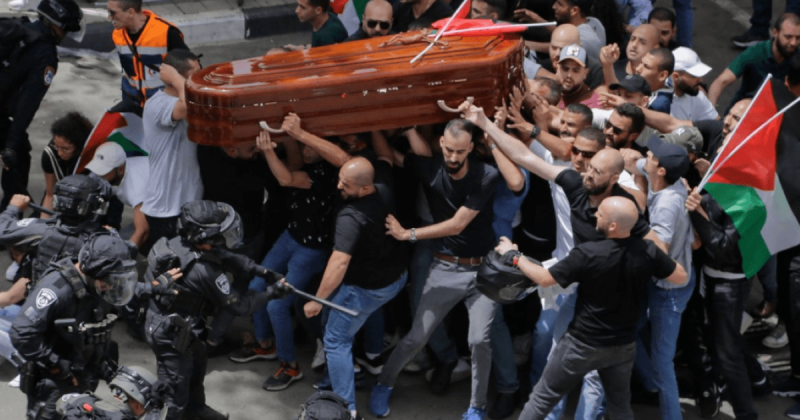 « Why Did Israel Execute Shireen Abu-Akleh? »
Steve Salaita (May 13, 2022):
Immediately after Israeli soldiers executed Al-Jazeera reporter Shireen Abu-Akleh and fired at a group of her colleagues, observers began asking how such a horrible thing could happen. Why would Israel murder a journalist well-known throughout the Arab World? A noncombatant wearing appropriate press gear? A high-profile Palestinian with U.S. citizenship? At best, it seemed like a terrible PR move. It didn't make any sense. Except it did make sense. In fact, from a certain point of view killing Abu-Akleh was painfully sensible.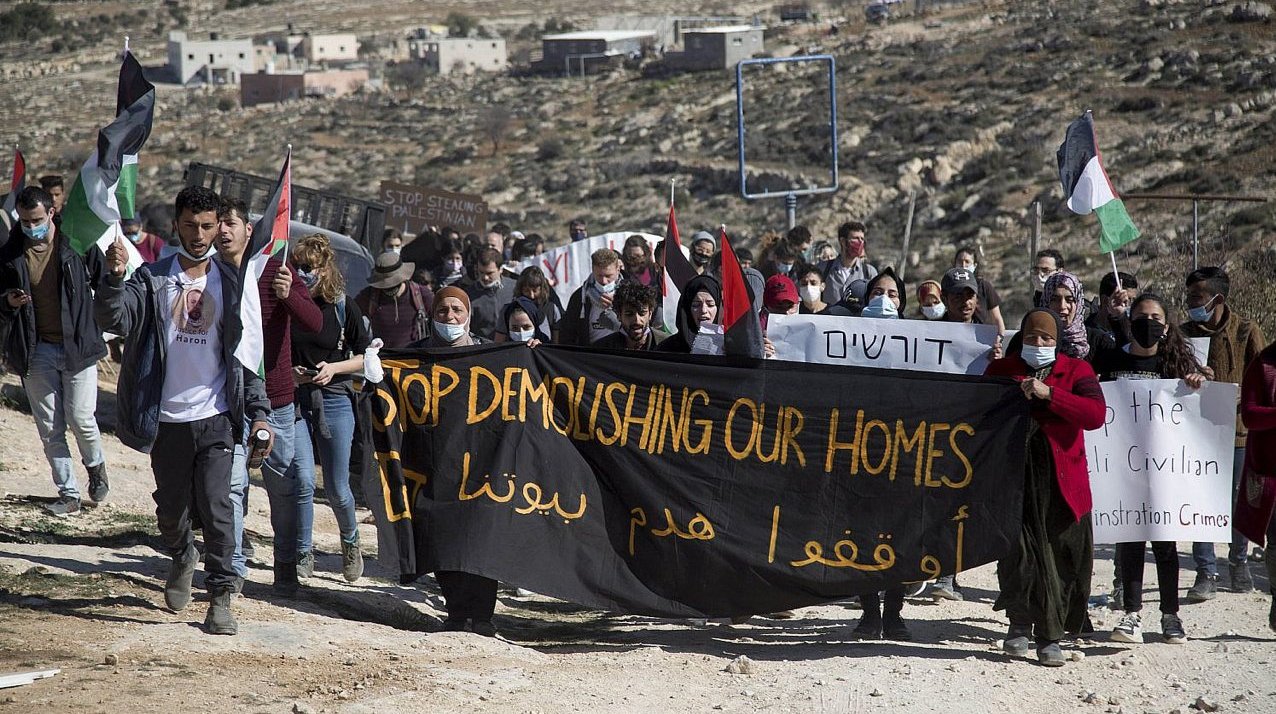 « Israëlisch Hooggerechtshof keurt gedwongen uitzetting van Palestijnen uit Masafer Yatta goed »
Vrede.be, 10 mei 2022:
« La Cour suprême israélienne autorise le transfert forcé des Palestiniens de Masafer Yatta »
CNCD-11.11.11, le 10 mai 2022:
Ondertekenende organisaties/Organisations signataires : 11.11.11, ABP, BACBI, La Centrale Générale-FGTB, CNCD-11.11.11, De-Colonizer, Een Andere Joodse Stem, Entraide et Fraternité, FOS, Intal, MOC, Palestina Solidariteit, SolSoc, UPJB, Viva Salud, Vrede vzw.
« Sign the European Citizens' Initiative to Stop Trade with Illegal Settlements! »
(BDS Movement, Feb 21, 2022):
More than 100 civil society organizations launch a drive for 1 million European citizens' signatures to stop European trade with illegal settlements in occupied territories.
One million signatures of European citizens to this text can pave the way to stopping business with illegal settlements.
The petition text is the legal text under which the European Commission has recognized that it can pass a law to stop trade with illegal settlements, once for all.

« Israel's apartheid against Palestinians »
« Cruel system of domination and crime against humanity »
Amnesty International Report, February 1, 2022:
"There is no possible justification for a system built around the institutionalized and prolonged racist oppression of millions of people. Apartheid has no place in our world, and states which choose to make allowances for Israel will find themselves on the wrong side of history. Governments who continue to supply Israel with arms and shield it from accountability at the UN are supporting a system of apartheid, undermining the international legal order, and exacerbating the suffering of the Palestinian people. The international community must face up to the reality of Israel's apartheid, and pursue the many avenues to justice which remain shamefully unexplored..."

Summary: click here!
Cultural Boycotts
« OVER 1,000 IRISH ARTISTS PLEDGE TO BOYCOTT ISRAEL IN SUPPORT OF PALESTINE » (Kate Braydan, HotPress, January 25, 2021): click here!

The 1,034 signatories include actors, writers, poets, painters, sculptors, film-makers, dancers, architects, composers, designers, musicians and others, including many members of Ireland's state-sponsored academy of artists Aosdána and range from some of Ireland's most internationally known figures to artists starting out on their careers. "We are very proud to have so many artists sign up to our pledge," IPSC Cultural Liaison Zoë Lawlor said. "Reaching 1,000 signatories is a huge landmark in Irish solidarity with Palestine and a serious statement in support of the Palestinian struggle for freedom, justice and equality. As the indigenous Palestinian people endure their 73rd year of dispossession, ethnic cleansing, apartheid and enforced exile, and western governments fail to sanction Israel, they need the solidarity of people of conscience - and this pledge plays a major part in that," Lawlor adds. The Pledge was launched by the Ireland-Palestine Solidarity Campaign (IPSC) in August 2010. It reads as follows: "In response to the call from Palestinian civil society for a cultural boycott of Israel, we pledge not to avail of any invitation to perform or exhibit in Israel, nor to accept any funding from any institution linked to the government of Israel, until such time as Israel complies with international law and universal principles of human rights."

"Top 20 impacts of our collective work for justice in 2020" (Palestinian BDS National Committee, Dec 20, 2020): click here!

Despite its massive investment of financial, political, diplomatic, propaganda and intelligence resources in its war against the BDS movement, Israel has failed, as some of its own lobby groups today admit, thanks to your support worldwide.

"Artists must reject 'bothsidesism' – because it serves the powerful and entrenches injustice" (Artists for Palestine UK, July 19, 2021): click here!

Artists for Palestine UK is troubled that the British Actors Network (BAN) has chosen to host an organisation that is funded by the UK government and currently promoted by education secretary, Gavin Williamson, called 'Solutions Not Sides'. The event is billed as an educational workshop for actors that aims to promote 'conflict resolution' as an approach for understanding the situation in Israel-Palestine. A recent report by Human Rights Watch accused Israel of "the crime of apartheid and persecution" against the Palestinian population. We are saddened that BAN, an organisation that is working to challenge abuses of power in theatre and film, does not recognise that it is inappropriate and misleading to apply a conflict resolution model while the very grave crimes of apartheid and persecution – with all the violence and trauma these entail – persist.

"32 Museum Directors Lead Calls for German Parliament to Reverse BDS Ruling" (Hakim Bishara, Hyperallergic, December 14, 2020): click here!

Hundreds of artists, academics, and writers called on German parliament to reverse a resolution from last year that labels the Palestinian Boycott, Divestment and Sanctions movement (BDS) as "anti-Semitic."
Books & Reviews
Shirly BAHAR: "Documentary Cinema in Israel-Palestine. Performance, the Body, the Home." I.B.Tauris, 29 July 2021, hb ISBN 9781838606824, 248p., £76.50: click here!

With the upsurge in violence that came with the outbreak of the Second Intifada in the early 2000s, a new wave of documentaries emerged that centered on Palestinian and Mizrahim experiences of pain and oppression under Israeli occupation and the mainstream Israeli-dominated public realm. This book explores how Palestinians and Mizrahim perform this entangled experience of oppression on screen.

Jeff HALPER: "Decolonizing Israel, Liberating Palestine. Zionism, Settler Colonialism, and the Case for One Democratic State." Pluto Press, 2021, pb ISBN 978 0 7453 4339 6, 244p. Foreword by Nadia Naser-Najjab.
Ronnie BARKAN: "Un État (d'esprit) d'apartheid" (Charleroi pour la Palestine, Dec 4, 2020): click here!

"Un État (d'esprit) d'apartheid" est une contribution de Ronnie Barkan au livre "Le strade dell'Apartheid" de Luca Greco : 30 photographies en noir et blanc pour témoigner de la condition de ségrégation physique et mentale en Palestine, dans les camps saharaouis et en Irlande du Nord. Déambuler dans les rues de l'Israël de l'apartheid, connu également sous le nom de Palestine, constitue davantage qu'une simple promenade à travers la riche histoire de cette terre, sans oublier la récente vague de violence et d'oppression. Tout en marchant dans les rues, on peut absorber autre chose encore que des expressions de racisme et d'ultra-nationalisme. Il s'agit également d'une balade dans un autre espace – dans un autre monde avec sa mentalité absolument différente.

SUSAN ABULHAWA: "Abulhawa on her Palestinian epic: 'My exile has defined my life and I don't need to account for the sensitivities of the people who did that to me.' Phil Weiss interviews Susan Abulhawa about her new novel "Against the Loveless World." (Mondoweiss, Dec 3, 2020): click here!

This is a celebration– and it's in our podcast this week. A few months back, Susan Abulhawa published "Against the Loveless World", an epic novel about the travels of a Palestinian refugee who ends up in an Israeli prison. The book deserves wide attention because it is a Palestinian's story told completely outside the American perspective, and outside the western frame of judgments on Palestine. Abulhawa's narrator does not check her attitudes toward Zionism or Israel with any of the censors that operate on so many of us, whether at editors' desks or in our own heads.

Rashid KHALIDI, "The Hundred Years' War on Palestine. A History of Settler Colonial Conquest and Resistance." Profile Books, Feb 6, 2020, hardback, 9781781259337, 336p. Price (The Guardian Bookshop): £21.00 (£25.00): click here!

Avi Shlaim

. "Riveting and original ... a work enriched by solid scholarship, vivid personal experience, and acute appreciation of the concerns and aspirations of the contending parties in this deeply unequal conflict," Noam Chomsky.
BACBI's Coordinating Committee:
Prof. Karel Arnaut (KU Leuven), Em. Prof. Marie-Christine Closon (UCL), Prof. Patrick Deboosere (VUB), Prof. Lieven De Cauter (KU Leuven), Em. Prof. Herman De Ley (UGent), Em. Prof. Marc De Meyere (UGent), Prof. Serge Deruette (UMons), Lieve Franssen (dirigent Brussels Brecht-Eislerkoor), Em. Prof. Michel Gevers (UCLouvain), Carl Gydé (directeur CAMPO), Em. Prof. Madeline Lutjeharms (VUB), Prof. Perrine Humblet (ULB), Em. Prof. Marc Jacquemain (Université de Liège), Raven Ruëll (régisseur), Em. Prof. Christiane Schomblond (ULB)

, Dr. Nozomi Takahashi (UGent), Prof. Karin Verelst (VUB).
BACBI Culture Secretariat: click here!
Current Affairs
Voor het archief: click here!


---